There is a distinction between marinas - they're not all the same. Some marinas are simply a parking lot for boats and offer nothing more. Others, like Savages Wharf are a full-service marina which offers berthing plus a complete range of marine support services to take care of your boat.
At Savages Wharf we take pride in being a one-stop-shop .... irrespective of your boating needs. We provide technical and trade support to assist you with on-site maintenance and repairs.
For service support and maintenance your first call should be to our Marina Manager who will be able to discuss your specific requirements, provide a quotation and then manage all the works. That's a single point of contact for all your boating needs supplied by Savages Wharf tradesmen.
Travel Lift
A Travel Lift is sometimes also called a straddle carrier. This is a purpose designed and built structure which gently lifts your boat clear of the water, then transports it to a designated area on the hardstand where it is lowered onto supporting chocks and struts, so that the hull can be worked on.
Our Travel Lift has the capacity to lift most power and sail boats. The lifting capacity is 40 tonnes and the maximum beam is 5.25m.
Our Travel Lift service is available to all boaters, not just those who berth their boat at Savages Wharf. In addition to lifting a boat to the hardstand for anti-fouling and other maintenance work, vessels are often lifted for inspection following a grounding, marine surveys or a hull check prior to issuing insurance cover.
Anti-Fouling
Boats which are moored or berthed permanently need to have the underwater parts of their hull regularly anti-fouled. This involves the application of a special anti-fouling paint which slows the growth of subaquatic organisms which attach to the hull. If left untreated, a dense growth attaches to the hull making the hull grossly inefficient and slow.
To anti-foul your hull, it needs to be lifted from the water by the Travel Lift and be correctly positioned on the hardstand so that the hull can be pressure blasted and the waste captured. The clean hull is carefully inspected before a fresh coat of anti-fouling paint is applied and your boat returned to the water.
The total anti-foul at Savages Wharf is amongst the most comprehensive available. While the hull is on the Travel Lift slings, it is pressure cleaned to remove marine growth. The boat is then lowered onto solid stands where more specific work is performed. This may involve dray sanding to prepare the hull for a new coat of anti-foul paint.
There are some instances where the build up of old anti-foul paint (generally 5 years worth) needs to be removed. This is done by soda blasting the old layers off. Soda blasting is a gentle but effective process which does not affect the gel coat of your hull.
With the hull properly prepared to receive a fresh coat of anti-foul paint, our staff apply a new anti-foul finish by hand with a roller.
Engineering
If your boat has run aground, even on a sandy bottom, chances are that the keel, props, rudder or outdrive have taken a hit. At Savages Wharf we have the equipment and professional expertise to check the underside of your hull for any damage and then undertake repairs.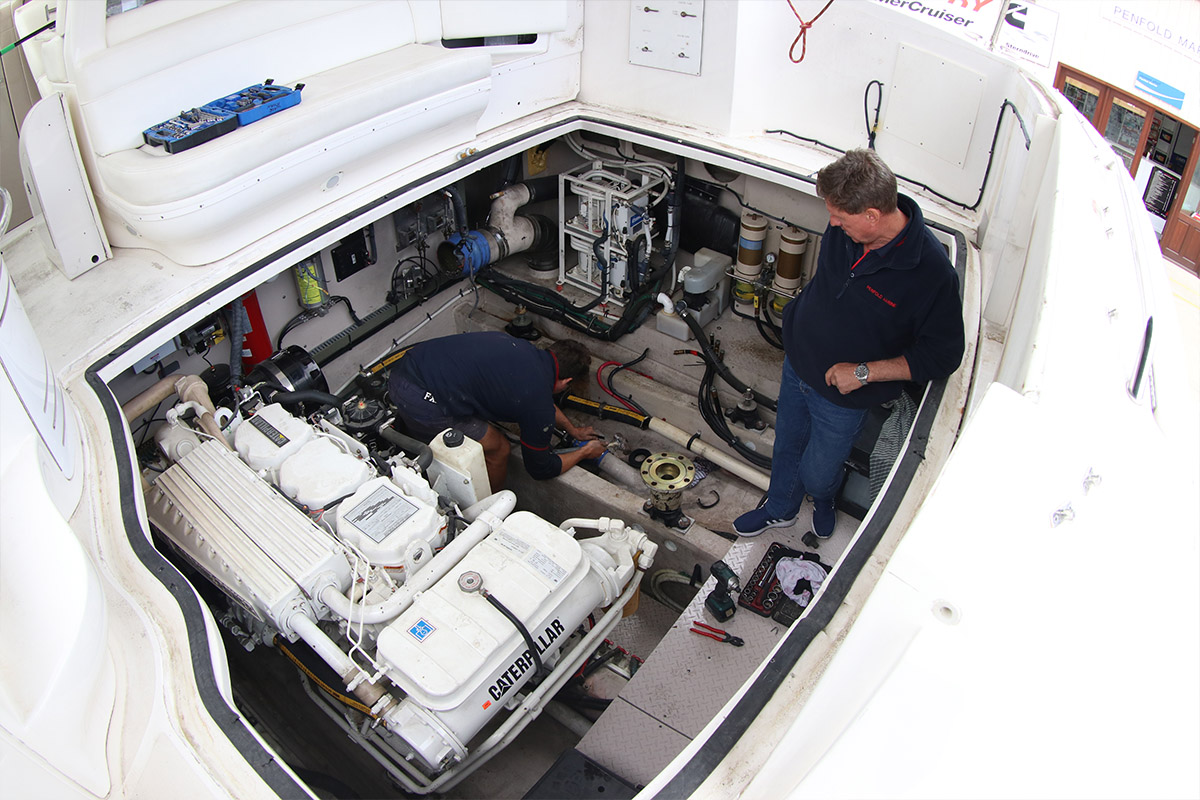 Electronics
Marine electronics now play a huge part of the boating experience. Auto pilot, GPS navigation, fish finders, drive by wire controls, marine communications …. the list is seemingly endless and equally mind numbing as to how all the various systems connect to each other.
Whether your need for marine electronics extend to new equipment, upgrading old gear or you are simply trying to get all the electronics working together, we have marine electronics specialists at Savages Wharf ready to assist.
Painting / Polishing
The marine environment is harsh. Salt water with damaging UV light can ruin even the most modern boat built with the finest materials.
To keep your boating investment intact, regular maintenance on the exterior is essential. Regular washing, buffing and the application of marine wax finishes will keep most boats in great condition.
Our polishing service is highly rated amongst marina customers who want the topsides kept in sparkling condition. After a day out on the water, we can hose your boat down to remove residual salt deposits. A well protected and regularly polished boat will not only look great, but will be an investment in keeping your boat in top condition thanks to the protective layer of marine wax applied and buffed to a high lustre.
But when the exterior finish is damaged, sometimes the only alternative is to resurface the affected area and re-paint. It's not a job to be done in the water and its not the kind of job for a DIY boater.
Speak to the experts at Savages Wharf for a professional assessment and quotation.